Starlight is a really awesome outdoor venue. Most of the artists I have seen there take a moment and comment on how cool it is to perform outdoors and how good the acoustics of the venue are. However being outside is, well, outside. The policy of Starlight is if rains that's ok, the show goes on. However if it lightnings well that's a showstopper. On July 3rd we thought for sure at this show we were going to get canceled we could hear the thunder and see the ominous storm clouds very near us. Here are the crews putting waterproofing on the mixing boards: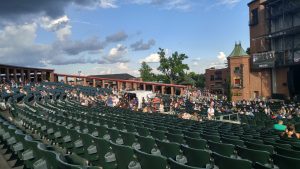 Natasha Bedingfield took the stage right at 1900 a sparse setup I thought: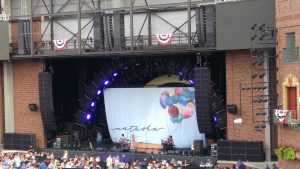 She played for about 40 minutes and overall was entertaining. That being said there is something weird about watching someone do an iconic song way out of their genre by an iconic artist. This came true watching Bedingfield do "Purple Rain" by Prince and the Revolution. I looked around and I didn't get the impression it was only me in a cringe induced state. Really if you're going to do something like this you gotta nail it; add your own flavor sure but just nail it. Don't get me wrong she was really good and energetic overall.
Anyhow onto Train they took the stage right about 2000. The tour was the "Play that song tour" and with that they had a jukebox theme going on. Really terrible picture but you can somewhat see the jukebox in the background: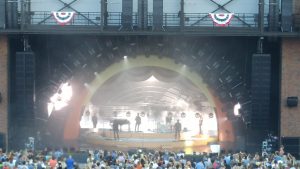 The production value was surprisingly good for Starlight great sound, great lighting and a complex set.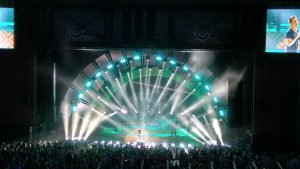 Train was high energy and fun to watch. They actually at one point threw branded beach balls into the crowd to increase crowd energy and participation, it worked:
Their encore included a tribute to Greg Allman and the Allman Brothers Band: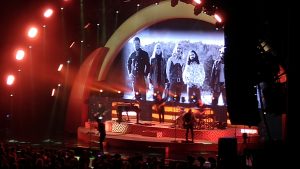 As they started I was worried but they nailed it. Earlier they also played "Under Pressure" (you know the one with the iconic bass line anyone can identify) by Queen and David Bowie and when they started again I was worried they were going to Bedingfield it but they again nailed.
They ended the show with their "Drops of Jupiter" and the crowd loved it:
Overall it was a great concert. It's always a good concert when you get to watch an artist having fun, the audience participating, and no rain on your head.
Me and my Angie (I am wearing my newly acquired John Legend 2017 tour shirt):